LANGUAGE COURSES IN
Our school is certified in accordance with standard ISO 9001:2015, category EA 35-37 for language training services (design and provision of language courses).
We organize group or individual classes with qualified native-speaker teachers, either at our offices, at your premises or online (delivered live by our teachers).
Objectives:
Develop all language skills (listening, speaking, reading and writing) using a communication-oriented approach based on the parameters of the Common European Framework for languages of the Council of Europe, from level A1 (beginner) to C2 (advanced).
Improve foreign language comprehension and conversation, vocabulary and pronunciation through activities and situations that promote the development of communication through a foreign language.
Develop specialist lexis: business, technical, legal, medical, etc.
Make the most of YOUR learning:
Our students can certify their language level by taking exams that allow them to obtain globally recognised certificates.
Click on our Language Certifications page for more info.
OUR LANGUAGE COURSES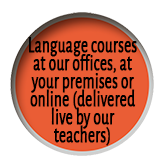 To find out more contact us
Study abroad
We provide language courses abroad together with qualified schools and partners based in main international cities.
CONTACT US FOR INFORMATION ON OUR COURSES AND PLAN WITH US YOUR PROFESSIONAL TRAINING!
A free entry test is available on our website to check your language level.
At our school you will find the course that suits you!